About TAFE Motors and Tractors Limited
TMTL – TAFE Motors and Tractors Limited, a wholly owned subsidiary of TAFE – Tractors and Farm Equipment Limited, comprises three manufacturing divisions, the Tractors Division, the Engines Division and the Transmissions Division. TMTL was established in 2005, when TAFE acquired the Tractors, Engines and Gears divisions of Eicher Motors Limited in 2005.

TMTL's Tractors Division at Mandideep near Bhopal, manufactures tractors under the Eicher brand, addressing the dynamic market demands in agriculture and needs of the modern farmers with a comprehensive range of tractors, implements and farm solutions, that are acknowledged for their rugged build quality, efficiency and low cost of operation. TMTL is probably the only manufacturer of both, air-cooled and water-cooled tractors in the world. Its top-of-the-line Research and Development (R&D) facility is capable of designing and developing new tractor models with its in-house prototype development and tooling competencies, that sets exemplary standards in the industry.

TMTL's Engines Division manufactures specially designed engines for stationary and automotive applications and has a strong presence in the retail, agro, telecom and industrial segments. Based at Alwar, Rajasthan, the unit manufactures diesel engines and gensets in the 5 to 125 kVA range, that are marketed as Eicher Engines (upto 45 kVA) and TMTL Engines (62.5 kVA & above).

TMTL's Transmissions Division, which houses an advanced manufacturing facility in Parwanoo, Himachal Pradesh, is capable of producing a range of gears, shafts and housings for captive consumption and OEMs.


Core Values
TMTL's core values define our beliefs, principles and practices. It outlines the conduct of business in our everyday lives, dictates our overarching vision and corporate strategy.

The new core values logo is a symbolic depiction of progress, energy and integrity. It vividly portrays the value sets practised within the organization.

The outer wheel indicates enduring progress and the inner chakra infuses whorls of energy that permeate the entire organization. The inner white space attributes justice and fairness, the perfect canvas for inscribing our values.




CUSTOMER
We may not be able to wipe the sweat from the customer's brow, but we can certainly put a smile on their face.


QUALITY
An uncompromising focus on quality, not just in products, but in all that we do.


PEOPLE
We are not just individuals doing our respective jobs. We are partners in progress. Our people matter.


TRUST
We value trust and long-term relationships with stakeholders, we live by it.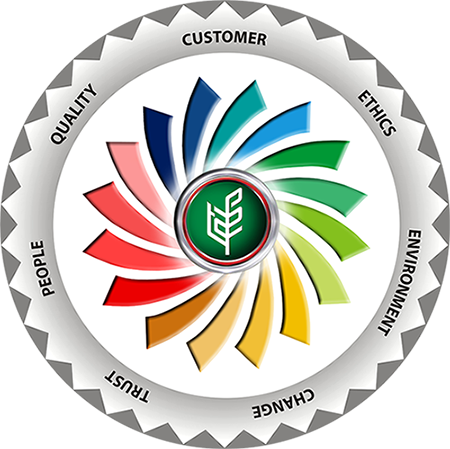 Enriching Lives. Empowering Dreams
ETHICS
Our strong foundation has been ethical practices, open and transparent operations.



ENVIRONMENT
While serving our company, we are mindful of our commitment to preserve the environment and contribute positively to society.



CHANGE
We create value by anticipating, preparing and facing changes in a world where the only thing that is permanent, is change itself.